We use affiliate links. If you purchase something using one of these links, we may receive compensation or commission. As an Amazon Associate we earn from qualifying purchases.
Planning Your Escape Routes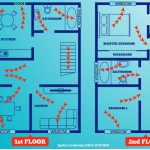 Preparing for emergency evacuation in advance is imperative if you and your family wish to stay safe in an emergency. Your evacuation plan should include at least 2 exits from each of your upper floors as deadly smoke can fill the home or work environment within minutes. It is therefore important to know your escape routes in advance.
We recommend you make a written plan and post it somewhere prominently where it can be seen and reviewed by all in the household or office. It is worth practising your escape plan with all your family members.
In addition to your fire escape plan, and your practice sessions, also test your fire alarms every month. Replace the battery once a year whether its needed or not as it is a small cost that offers massive peace of mind.

Check that your internal doors close effectively to make a suitable seal against smoke, and that any windows that you have chosen as exit points, are in good working condition and you have access to keys in times of emergency.
If there is a lot of smoke blocking your exit, then throw down a duvet or blanket to block any gaps between the door and the door frame , while you should crawl down as low as possible to your planned exit point.
As you move towards your exit, ensure that doors are closed behind you to starve the fire of oxygen if possible.
Practice your Emergency Evacuation Drill
As part of your emergency evacuation plans, practice deploying the ladder that you have installed for such an emergency.
Some portable escape ladders may be stored under the bed, or in a wardrobe, or even fixed to the wall with secure fixings. Practice accessing the ladder and deploying the ladder to avoid it getting tangled on any furniture.
If you are responsible for also helping a small child or an elderly person to exit the premises, then you are able to purchase a harness which will allow you to exit the window or building while keeping your hands free. These optional products will be detailed in further articles.
You can download an example of an escape plan in pdf format, by clicking the link. Included is also a blank template for you to draw your own layout with some additional tips to guide you.
I use some affiliate links on this website. I may earn a commission if you click one of the product links. Please see my Affiliate Disclosure for further information