We use affiliate links. If you purchase something using one of these links, we may receive compensation or commission. As an Amazon Associate we earn from qualifying purchases.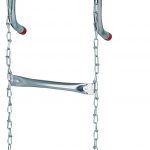 There is just a small range of manufacturers that make the majority of Fire Escape Ladders for homes and some commercial premises. These products all offer very similar features and often the major differences between them is to do with quality of the materials used. All of them have certified safety ratings following comprehensive testing. But we should point out that certification can differ between countries though it is usually consistent for each manufacturer.
General Construction Materials
Almost all fire escape ladders for homes consist of aluminium treads and aluminium handles or chains. Otherwise, strong but lightweight steel is used. Some evacuation ladders even use a special fire retardant strapping made by DuPont Cordura, which is a very hard-wearing and durable fabric. Having "sleeves", or protective coatings to protect the wall surface or window sill are optional. As is the number or size of standoffs which are dependent on the angle of the ladder and the likelihood of it swinging against the side of the building.
All materials will be lightweight and fire retardant.
Aluminium Rungs and Standoffs
The size of the aluminium rungs vary though are obviously small to save space. Treads or rungs are usually scored to give the user a better grip. The standoffs are especially useful when coming down the side of the building as they provide some stability against the wall. Ladders that are primarily used for exiting dormer windows or getting off balconies, may not have standoffs.
Ladder Lengths
Emergency evacuation ladders are designed in a range of lengths depending on the needs of the user. Sometimes a shorter ladder may be required to exit safely from one level to the next but frequently, portable fires escape ladders are sold as "2-storey", "3-storey", "4-storey" and up to 5-storeys. For higher floors, the occupant is better suited to investigating the use of a fixed ladder system.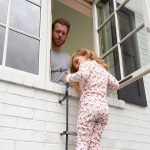 A Variety of Ladders
So there is a small variety of "portable" fire escape evacuation ladders and a small number of manufacturers. Some ladders are sold as "single use only", so these may not be suitable if you want to practice your escape plan. We will look at the range of ladders and the manufacturers themselves, in further articles.
I use some affiliate links on this website. I may earn a commission if you click one of the product links. Please see my Affiliate Disclosure for further information