We use affiliate links. If you purchase something using one of these links, we may receive compensation or commission. As an Amazon Associate we earn from qualifying purchases.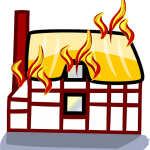 It is unlikely to have escaped your attention that with significant increases demand for multi-storey homes and commercial premises for businesses, as well as the large increases in the number of high-rise buildings, that we all face greater challenges in any emergency that may require the use of Evacuation Ladders from those premises.
As more homes are required to house the world's growing populations, we don't need to be reminded that traditional bungalows, cottages and single storey houses and offices are becoming more scarce. With the unavoidable increase in cost of such low-level housing, and the scarcity of land, the natural and obvious solution is to build upwards. This means that in the future, many more people are likely to grow up in a multi-storey house, flat or apartment.
Building regulations in many countries, cities and towns already have the requirement for emergency exits and fire escapes from high rise buildings following traditional fire safety regulations but there is often less attention paid to 2 and 3 storey houses.
What is your plan for Emergency Evacuation?
Having a plan for an emergency evacuation is fundamental when you live anywhere higher than the ground floor. Of course, one never wants to be too alarmist about the potential event occurring so many of us ignore, postpone or procrastinate when it comes to setting up a plan that may involve the use of evacuation ladders or any other method and options of evacuation.
Evacuation Ladders – What type of ladder is best?
There are several varieties of evacuation ladders and there may be a preference for choosing one type over another type of ladder;
Portable Escape Ladders
Escape ladders for a Balcony
Fixed External ladders with secure locking mechanism
Escape ladders for use from loft, roof and/or dormer windows
Installing your Evacuation Ladders
Consideration must be given to the installation of the ladder to ensure that access is available quickly and with minimum difficulty. All evacuation safety ladders include a weight limit, so you need to consider whether your installation will be appropriate.
Also, how will the ladder be accessed? Is it attached to the bed like a ladder of sheets tied together, that you often see in cartoon-type movies?
Or will it be fixed to a wall permanently and for easy deployment? It could be attached to the wall below the window sill either by strong eye hooks. Alternatively, using the metal hooks that could hook under the window sill.
Also, how accessible is the ladder? Would the user have to move a wardrobe or bed in order to deploy the ladder in the likelihood of such an incident? Or can the ladder be attached to the legs of a bed and then simply throw the ladder out of the open window; a bracket will hold it in place by hooks behind the legs of the bed. Of course, this decision will be better made once one has made the decision on what type of ladder is best; For a child's bedroom, then a thinner rope ladder may be appropriate, whereas for a larger adult, they may want something with sturdy suitable rungs that offer more stability.
Portable Escape Ladders are supplied in two lengths; usually between 13ft and 25ft or 3.9m to 7.6m and are typically used for a 2-storey or 3-storey building. These may be kept under the bed and can be deployed quickly if grabbed in time. They may also have hooks or gripper bars to hook over a window sill. For extra stability, these can be attached to a point under the window sill by way of the hooks or attachment to eye bolts.
Rope ladders are perhaps less rigid but may be easier to fix to a wall, and will offer relatively rapid deployment. However, they are likely to swing more than one of the rigid ladder options. Rope ladders could be simple ones like those for accessing a child's treehouse, or they could be of the type more sturdy and similar to the rope ladder used on a ship.
Escape ladders for a Balcony
Fixed External ladders with secure locking mechanism
Escape ladders for use from loft, roof and/or dormer windows
Have an Evacuation Ladder can increase your Security
An emergency ladder is only useful if it is available when needed and easily accessible. Hiding one in a closet, just to keep the room looking tidy, may not be very helpful. Some people think that perhaps one ladder is required by every window but this may not be the case. One should identify an escape plan in the event of an emergency. And look at several exit points and perhaps position a ladder at those points. And often times, it may be necessary to be able just drop one floor, for example if you lived in a multi-storey or tower block. Getting one floor down may make all the difference. So work out a plan before making any decisions.
Evacuation Ladders – Do what is best for your premises
There are clearly quite a few options for Evacuation Ladders in the home and commercial premises. Most people think it can never happen to them so as a security option, it is probably rated quite low.
And even just thinking about the needs and the related issues, means that some people may feel that they are dwelling unnecessarily on this aspect of safety, especially since it does require some thought and spending on the units and the installation thereof.
We at EvacuationLadders.com recognise the fact that such an evacuation ladder is not appropriate for every instance and for every room in the premises, but the small cost can provide a peace of mind that gives the user valuable extra minutes to evacuate. Clearly, there is no point in purchasing the item if it never gets fixed to the wall, and care must be taken to check the ladder and is fixings at least annually – along with correct fitting and monthly checks of smoke alarms and carbon monoxide safety devices.
So the last thing we want to do is create unnecessary concern, and we offer our ideas and solutions for your benefit.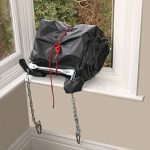 I use some affiliate links on this website. I may earn a commission if you click one of the product links. Please see my Affiliate Disclosure for further information